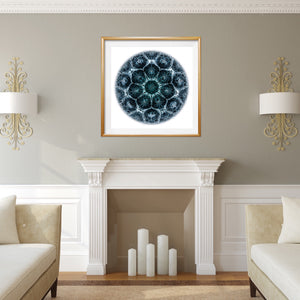 Khloris (24.12hz)
Sale price Price $ 69.00 Regular price
Tax included.
Named after Khloris (Chloris) the goddess of flowers and nymph of the Islands of the Blessed.
Created by a resonance with the pure sine wave frequency of 24.12hz in water. Light reflections reveal its form.
Sound-over-matter Mandalas are an essential feature to Sacred Sound-Healing spaces.
Allow the mysterious beauty of sound to bring novelty, balance and harmony into your sacred space with a signed, limited-edition photography print. (Only 20 produced)
Size: 22in (56cm) x 22in (56cm), or 16in (40cm) x 16in (40cm)
Printing: Printed on your choice of 310gsm high quality fine art Rag Photographique Paper. (Best option for full effect) Or, Endure premier photographic Lustre, slight shine and textured.
(Prints are Unframed)
Shipping: 100% carbon neutral delivery. 6 USD Australia, 9 USD New Zealand. 13 USD Worldwide.
(Made fresh to order - will be sent from Australia within 1-3 working days)


Let customers speak for us